Dafnefetish - A stinky day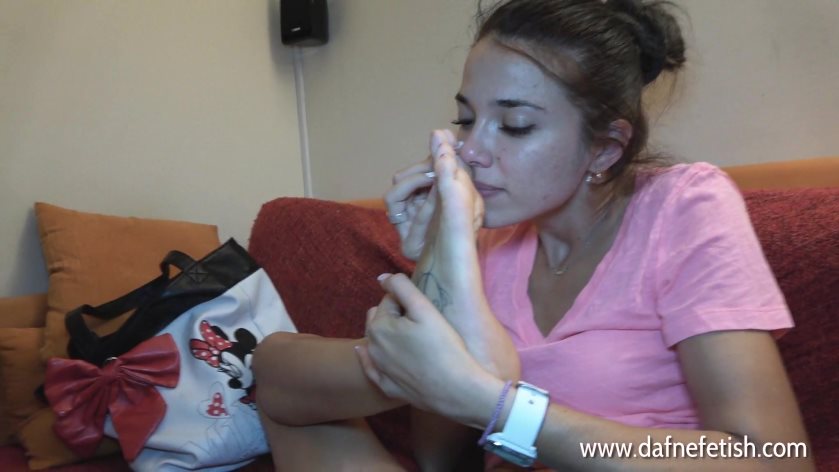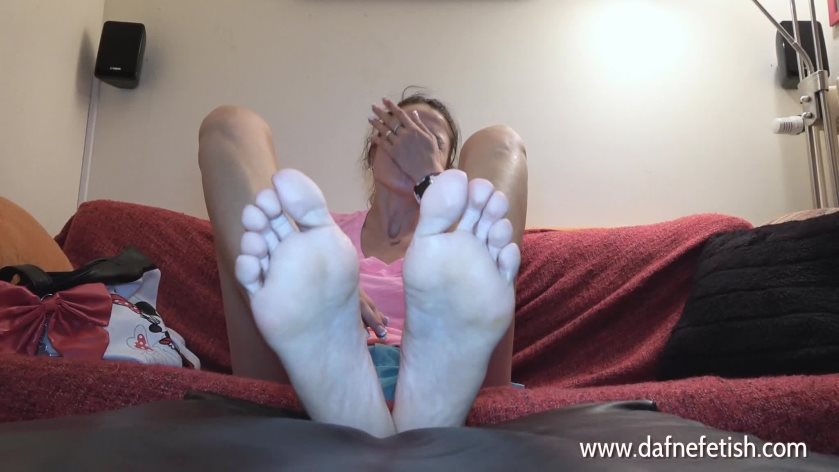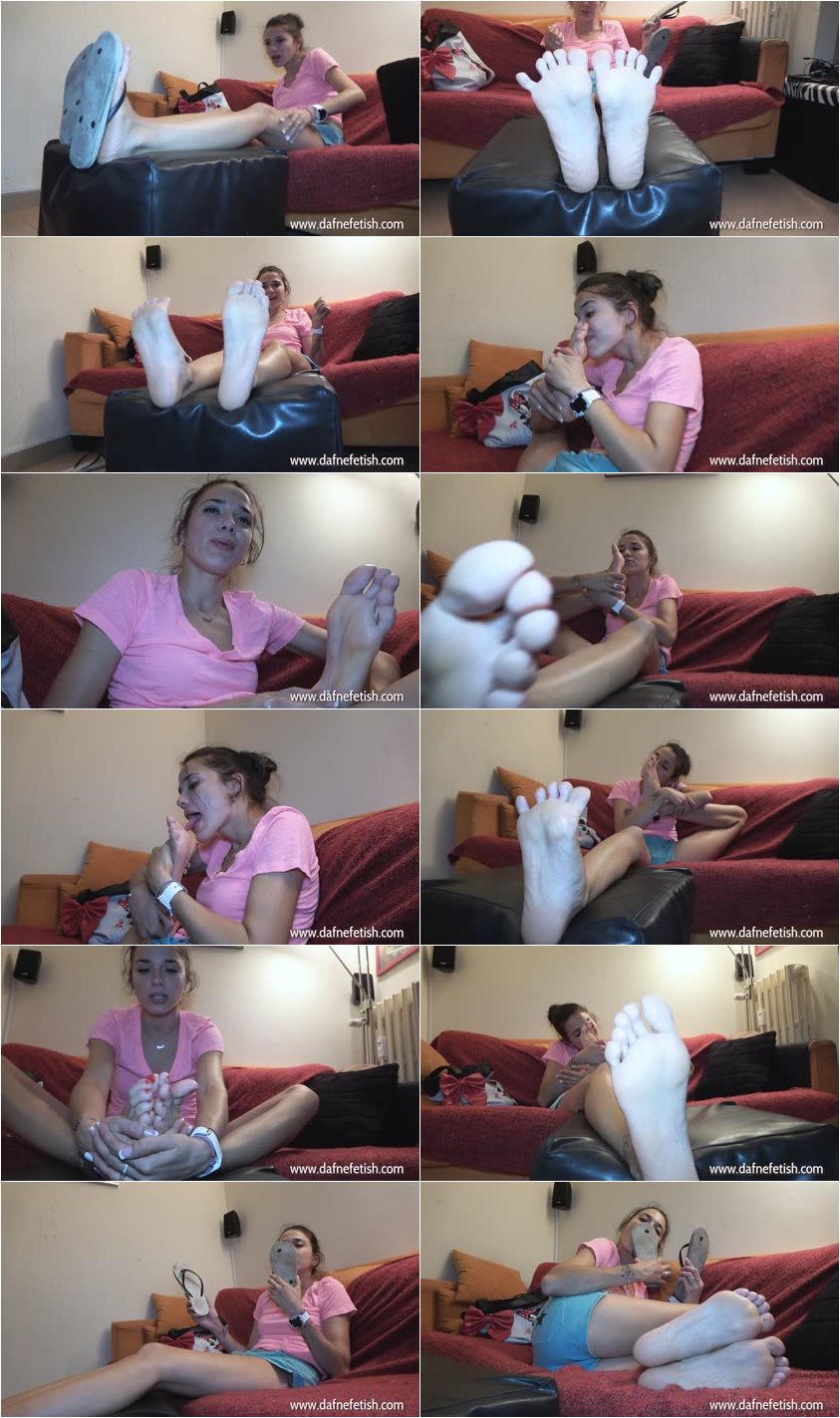 Description:

Protagonista : Nicole alias Filo

Filo ritorna da una giornata estiva infernale ,ha dovuto camminare sotto il sole cocente perche' c'era lo sciopero degli autobus, indossa le infradito le classiche di pochi euro, che dopo quella lunga camminata sono fradice di sudore dei suoi piedi, ha le piante leggermente sporche e odorose.

Torna a casa entra nel salotto camminando si ferma a poggiare la borsa sul divano e qui gli cade qualcosa sotto il divano, si china per prenderla, rialzandosi gioca con le infradito sfilandosele quasi, tocca il tallone quasi a massaggiarlo e poi si siede sul divano avvicina il pouf e ci poggia i piedi con entrambe le infradito e se le sfila entrambe distendendosi le piante con aria sollevata e si porta al naso le infradito per sentire se puzzano , le annusa per benino tra l'insenatura centrale fino alla tomaia per coglierne con enfasi l'odore pungente , dapprima disgustata dalla puzza dicendo : Cazzo Filo hai bisogno di lavarti i piedi ! Poi annusandone l'aroma piacevolmente colpita esordisce : Ma sai che ti dico dato che il mio fratellino Paolo non c'e' gioco un pò da sola con le mie piante puzzolenti !

E si mette entrambe le infradito in faccia annusandole con enfasi e con piacere inala quel odore , quasi in estasi muovendo le sue piante dei piedi laccate di nero con vari e prolungati spread toes,mentre lo fa'.

Dopo aver annusato x benino le infradito , le butta a terra. A questo punto , mette le mani tra le dita dei piedi per cercare di impregnarsi le dita della mano, di quella puzza annidata tra le dita dei piedi ,e porta entrambe le mani al naso impregnandosi il viso e il naso di quell'odore , estasiata ripete ancora questo movimento ,godendo quasi di quell'odore che dalle piante dei suoi piedi passano alle mani e lei lo annusa , mentre esegue i soliti ampi spread toes , quasi a spargere nell'area quell' intenso aroma.

Poi prende una pianta del piede e la incomincia a sniffare con passione prima tra le dita per scendere giu', cosi' fa' con l'altra pianta del piede , estasiata da quel odore , poi posiziona entrambe le piante sul divano quasi a voler formare una coppa in cui immergerci il viso si infila con il naso all'interno sniffando appieno tra le dita mentre le muove ,e continua avidamente a sniffare per poi richiedersele sulla faccia

Poi dice : Filo è ora pulisci per benino lo sporco ... e vai di lingua ! ridacchiando con aria entusiasta e incomincia a leccare entrambe le piante dei piedi salivandole x raschiare via quel sudore quasi sentendone il gusto , per arrivare con la lingua tra le dita ripulendole x benino eseguendo vari toes sucking di piacere.

Poi Filo passa alle infradito per un po' leccandone la tomaia interna e il lembo centrale.

Estasiata alla fine con aria soddisfatta e sbarazzina , rimette le sue piante dei piedi in primo piano sul letto , muovendole leggermente e dicendo : Brava Filo ora si che i tuoi piedi sono puliti!

Filo returns from a hellish summer day, she had to walk under the scorching sun because there was a bus strike, she wears the classic flip-flops of a few euros, which after that long walk are now soaked with sweat from her feet, her soles are slightly dirty and smelly.

ENGLISH

Back home she enters the living room walking stops to rest the bag on the sofa and here something falls under the sofa, she bends to take it, getting up plays with the flip flops almost letting them fall, touches the heel massaging it and then she sits on the sofa near the pouf and puts the feet on it with both flip-flops and pulls them both by relaxing the soles and bringing the flip-flops to the nose to smell them, sniffs them nicely between the central inlet and the upper to gather with emphasis the pungent smell, at first disgusted by the smell saying: Filo Filo you need to wash your feet!

She puts both flip flops on her face, sniffing them with emphasis and with pleasure inhales that smell, almost in ecstasy, moving the soles of her feet with various and prolonged spread toes, while she does so.

After sniffing the flip-flops, she throws them to the floor. At this point, she puts her hands between her toes to try to impregnate the fingers of her hand, that stink nestled between her toes, and brings both hands to the nose soaking the face and nose of that smell, ecstatic she repeats this movement again, enjoying almost that smell that passes from the soles of her feet to the hands and she sniffs it, while she performs the usual wide spread toes, almost to scatter in the area that intense aroma.

Then she takes the sole of her foot and begins to sniff with passion first between her toes, then place both soles on the sofa almost to form a cup shape in which to immerse her face in it with the nose inside sniffing.

Then she begins to lick both soles making them wet to scrape away that sweat almost feeling the taste. She get with the tongue between the toes to clean them.

Then Filo start with the flip-flops for a while licking the inner upper and the central flap.